FAQ's & Samples
Do you do fulfillment?
Not only do we offer fulfillment, we are uniquely positioned to execute even the most complex projects. We have been doing it for 20 years and counting. Fulfillment pricing starts at $1.50 (R) and is priced based on the number of items to be included, the complexity of the project and the use of other items such as crinkle shred, ribbon, etc. We ask for the list of items to be included, along with the dimensions of those items to get you a quote. We require a sample of each piece prior to building out the boxes, to assure all items fit perfectly, and we photograph the end result for you before proceeding. When utilizing us as your fulfillment house, you get a creative team, skilled gift makers, and a qualified shipping department that can handle thousands of drop-ship addresses.
What is your Brand & Batch Program?
Looking for an ongoing gifting program? Our Brand & Batch program keeps things stress free. With our fulfillment and kitting expertise plus our gifting warehouse space, we are able to store your products to be fulfilled and drop-shipped as needed. There are monthly, quarterly and yearly storage options, with pricing based per pallet. As with standard fulfillment, simply provide your promotional products and collaborate with our team to design a perfectly sized wooden gift box. You may also choose to include any of our in-house gourmet items along with your own products, and we're happy to help source additional products if desired. Once a quote is approved and the boxes have been produced, we're able to drop ship filled boxes upon request for an unboxing experience that will delight any recipient.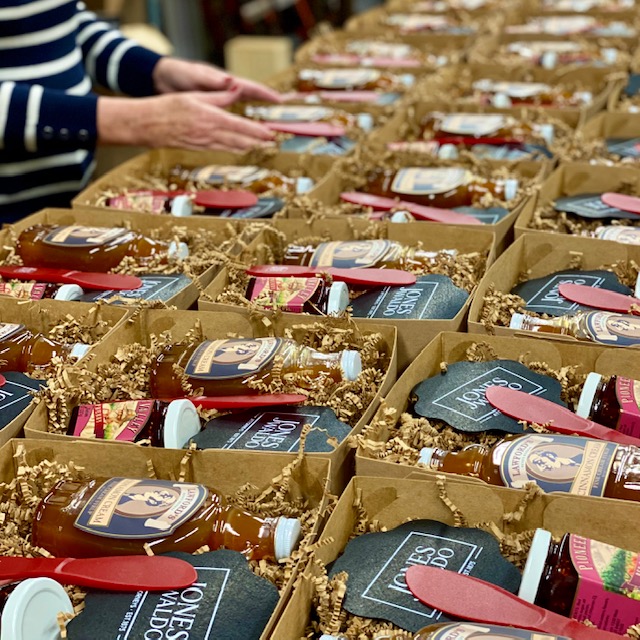 What are your most popular wooden box and crate styles?
We offer numerous styles: slide-top boxes, nesting lidded boxes, solid open crates and slatted open crates. They are all useful for differing purposes. We sell the most of our slide-top boxes because of the secure lid. Slide-top lids can be made from wood or clear acrylic. Our nesting lidded boxes are an inexpensive style, that still provide a closed box. The lids have slats underneath that hold the lid in place, but do not stay on if tipped upside down.
What decoration methods do you offer?
We offer three methods of decoration: laser engraving, full color UV printing and fire branding. All three options look amazing when applied to the surface of the box, and each has their own distinctive look.
Our most popular method is laser engraving. This is a very precise method of cutting into the wood with a laser. On natural wood, the image is a shade darker. On stained wood, the image is the color of natural pine. In this case, the finished design will look almost exactly like the original image. The only difference you may see is wood grain and small wood knots.
Our second, (and newest!) decoration option is full-color UV printing. You aren't limited to just one color, but now have the option of full four color process imprinting. Please contact your account exec for pricing and artwork guidelines
For fire branding, we use what looks like an actual cattle brand and burn the logo into the wood. This is not available on the clear acrylic. We love the style a fire brand creates, and we always want the client to know what to expect. It creates a very rustic look and not one impression will look exactly like the next. This is due to the natural variation in the wood, the pressure applied, the high heat of the branding environment, and the presence of sap in the wood. We recommend this method most when the client logo is free of intricate elements as the natural burn achieved with a fire brand may obscure the finer details in the image. Please ask your account executive if your logo is ideal for fire branding. Please note, this method also adds three weeks to the lead time, so it's usually a great option for orders with plenty of lead time.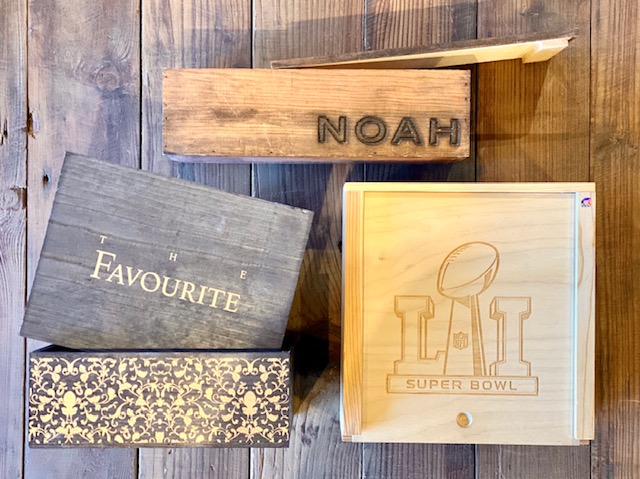 How do I sell your boxes?
We love seeing all the creative ways our distributors and the end users are utilizing our boxes. We find that end users are looking for sustainable, lasting packaging. The top ways in which are boxes and crates are being used is 1) for product launches to influencers and VIP's, 2) for gifting to clients and/or employees, 3) for display units to be filled on site, and 4) for milestone recognition projects – i.e. "50 years in business". Being able to tell clients that we are Made in the USA, 100% women-owned and promote sustainable products makes the pitch even that much easier.
What is your lead time?
Our standard lead time is 7-10 business days from proof approval. Reasons that lead time may be extended is for large quantities, multiple customized features, complicated fulfillment, etc.
Do you actually sell and pack gourmet food items?
We started out as a gourmet gifting company, so yes, we will always be a great source for gourmet food gifts. If we don't have it on our shelves, we almost surely have the resources to bring in exactly what you are looking for. We love when you ask us for unusual items, because everything out-of-the-ordinary only makes the gift more special. Want a manly gift? Looking for items to fit a fiesta theme? Need items that represent New England? Requesting only organic or gluten-free? Put us to the test.
Where are you based?
Our corporate offices and showroom are in Salt Lake City, UT. Our wood shop is nearby. We ship from both locations, depending on the project.
How can I get a sample?
We offer two sample kits. The first is a selection of our top-selling wooden crate and box styles, showcasing each of our decoration methods. $16.67 (R) each + your shipper number. We also offer a gourmet sample kit with a sharable portion of our top four gourmet delights. $8.33 (R) + your shipper number.
Blank stock samples: These are priced at EQP and are shipped within a day or so. You provide a shipper # and let us know how quickly you need it.
Random samples: If we have what you are asking for on-hand, these are priced at EQP + the corresponding run charge. They often ship within one day. We do not charge a set-up on these. You provide a shipper # and let us know how quickly you need it.
Spec samples: All crate and box spec samples are $41.67 (R) plus the decoration, set-up and run charge. These are shipped within approximately 5 days on your shipper #. This is a great choice when you really feel the project is likely to come to fruition. Any set-up charges paid for the sample will be waived upon receipt of the purchase order.
Virtuals: A great option when a sample is not required. Your first virtual is at no-cost and will be provided within approximately 24 hours. For gourmet gifts, we often send the sample for tasting and approval, then provide a virtual to allow your client to visualize their logo on the chosen item.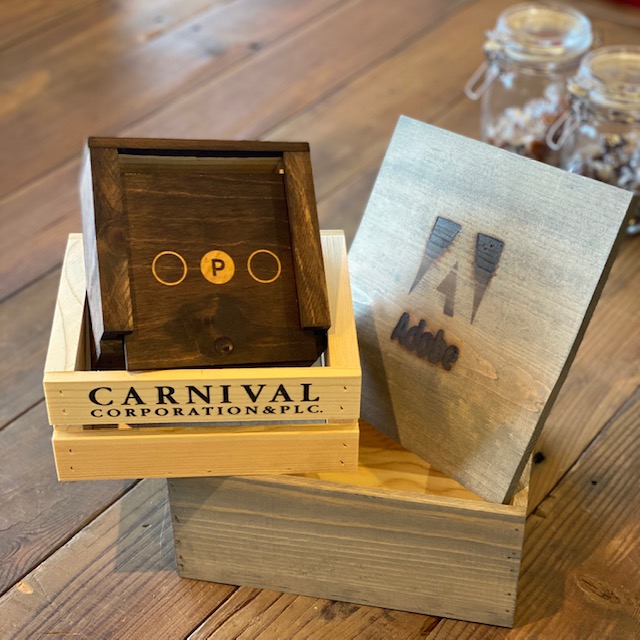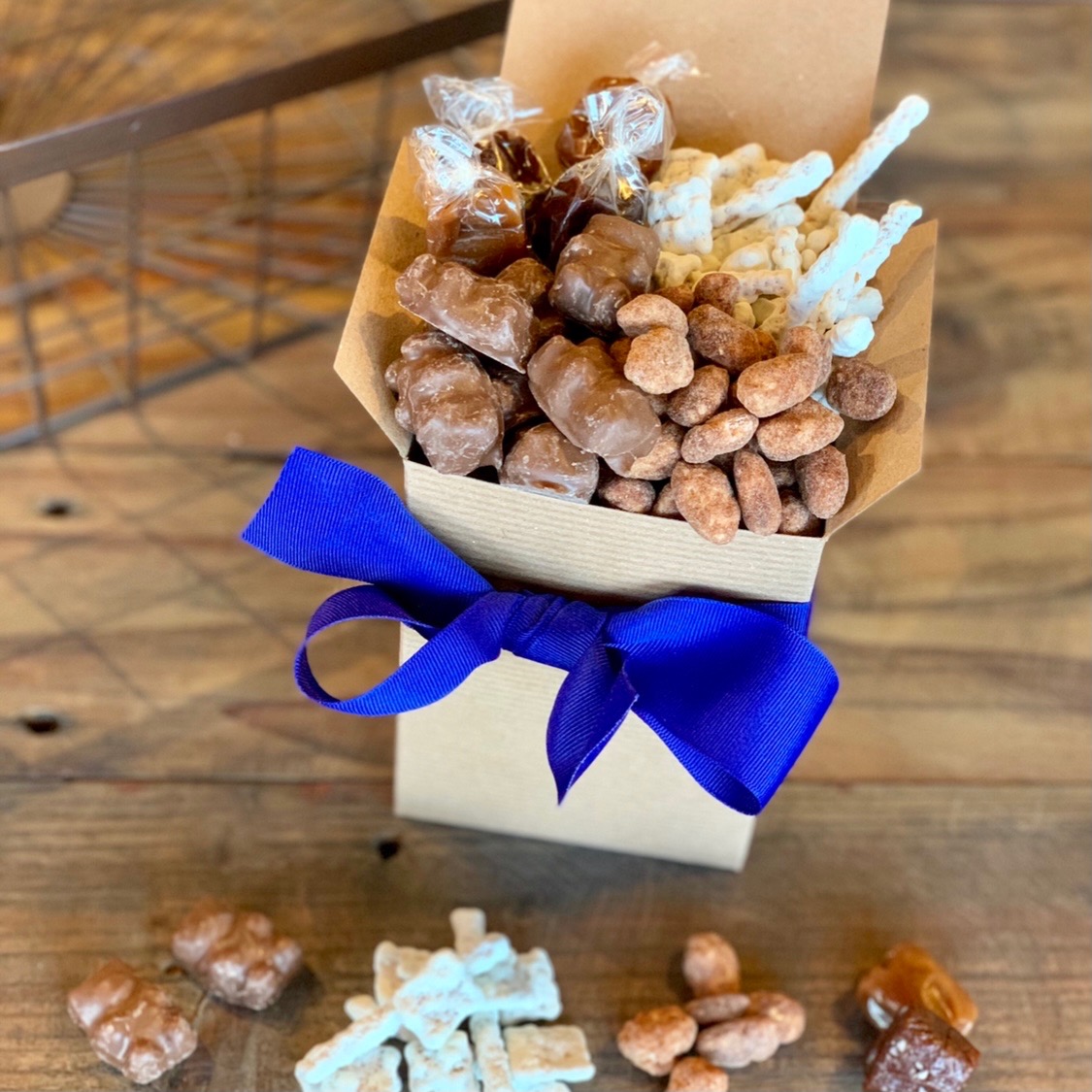 Are your products sustainable?
Our boxes are made out of North American Pine, one of the most sustainable types of wood because it grows so quickly. We source our pine from neighboring western states, and the short transport helps reduce our carbon footprint. Working diligently to close the circle and contribute to ongoing reforestation efforts, WE PLANT 10 TREES FOR EVERY ORDER WE RECEIVE. All of our wooden boxes as well as the bulk of the packaging for our gourmet products are recyclable.